Thanksgiving in July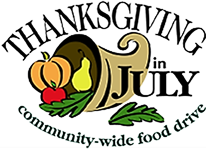 Thanksgiving in July is an annual event held throughout the month of July across the state of Iowa by several food collection agencies. In 2019, Churches United of the Quad City Area finished first in the state by collecting the most during its campaign.
We're looking for individuals and organizations who are willing to help with the Thanksgiving in July Quad Cities food drive that provides food to the hungry, homeless, and working poor in the Quad City Area.  All the food and funds collected fill the shelves and support 23 local food pantries and 2 hot meal sites. For more information, contact our associate director, Betsy Vanausdeln at bvanausdeln@cuqca.org or call Churches United at (563) 332-5002.